Added: 01/13/2022
Sold At:
tradeshowdisplaypros.com
Price: $34.00
Description:
Order this attractive Metro tabletop banner stand and capture customers' attention instantly at trade shows and exhibitions. The premium tabletop retractable banner can be used on both tables and countertops, and the stand can display an 11.75" x 24" banner. This durable promotional item comes with a lifetime warranty. Visit https://www.tradeshowdisplaypros.com/ to buy tabletop banner stands for great prices.
Item Tags:
tabletop banner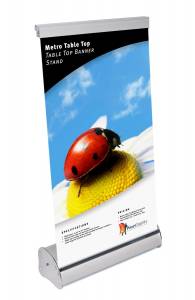 Wish List: Power Graphics Digital Imaging Inc
<< Back To Wish List
---
Item listed by...