Added: 10/22/2021
Sold At:
www.tradeshowdisplaypros.com
Price: $197.00
Description:
This Quicksilver Pro 60 retractable banner stand shows a 59.1" by 35" to 92" or 38" to 96" banner. The affordable display comes with advanced features and is popular among trade show exhibitors. It has an adjustable height from 35" to 96", so it can be used as a table top display or a floor banner display. The spring-loaded roller banner holds the banner safely under tension. It comes in six different widths to satisfy your display needs. Visit https://www.tradeshowdisplaypros.com/
Item Tags:
retractable banner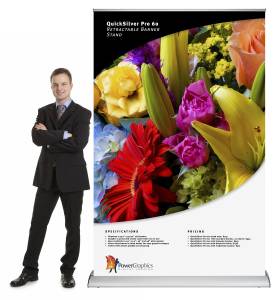 Wish List: Power Graphics Digital Imaging Inc
<< Back To Wish List
---
Item listed by...