Added: 08/12/2021
Sold At:
bannerstandpros.com
Price: $26.00
Description:
Buy this Metro Table Top Banner Stand to make the table visually attractive to attendees at trade shows and exhibitions. The tabletop banner stand is ideal for making the most within limited space. The durable product is designed to last and comes with a lifetime warranty that covers manufacturing defects. It displays a banner with an 11.75" x 24" banner with a visible size of 11.75" x 19.5". Visit https://www.bannerstandpros.com/ to order this stand for all your business needs.
Item Tags:
banner stand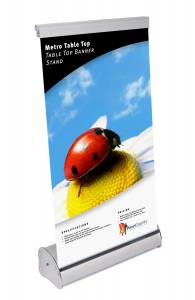 Wish List: Power Graphics Digital Imaging Inc
<< Back To Wish List
---
Item listed by...