Added: 12/12/2008
Sold At:
www.walmart.com
Price: $59.88
Description:
Pull up a chair and stay awhile! Have a snack, or work on arts and crafts at this all-purpose table and chairs set. The smooth, granite-look surface easily wipes clean, and its realistic styling matches today's decor, so it fits perfectly in any playroom, bedroom or family room.
Item Tags:
table, chairs, crafts, child, kids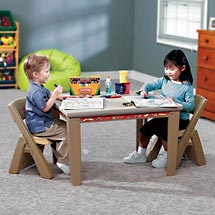 Wish List: Christmas 2008
<< Back To Wish List
---
Item listed by...