Added: 02/25/2021
Sold At:
US Diamond Dental, LLC
Price: $11.95
Description:
The Gracey Double End 5/6 is designed to remove supragingival calculus on tooth surfaces and the edge of the gum. It is also used to remove filling and cement excesses. It is made using the highest quality 440A stainless steel and can be easily re-tipped. The slight contra-angle is ideal for anterior incisors and canines. We're now offering a special limited-time offer. Buy new double-end dental instruments at only $11.95! Visit https://www.retipping.com/ to learn more.
Item Tags:
dental instruments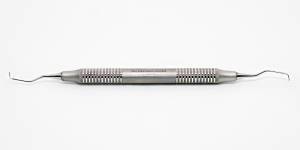 Wish List: US Diamond Dental LLC
<< Back To Wish List
---
Item listed by...